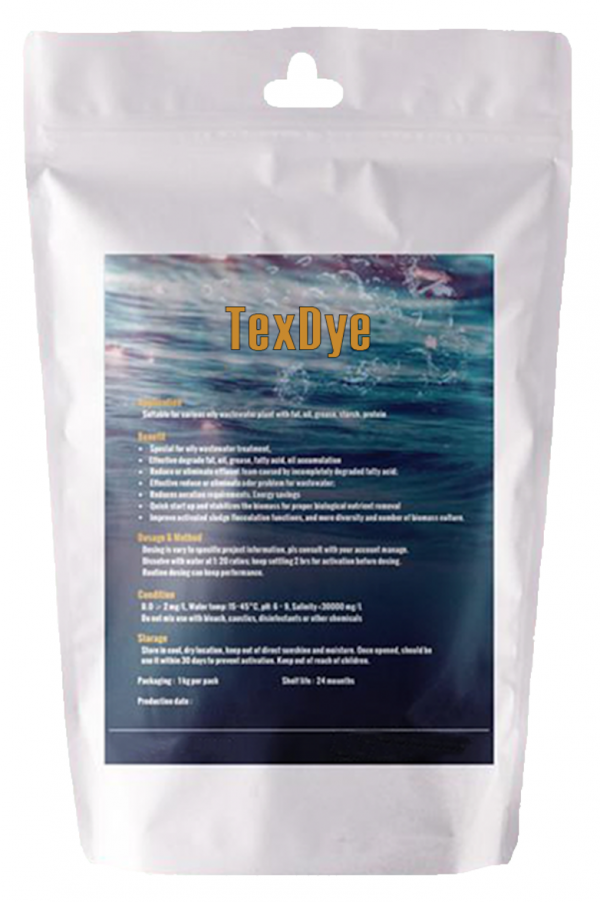 TEXDYE
Special microbial enzyme for Textile & Dyeing wastewater, Effective to reduce surfactant in wastewater 
High Potency, Bacterial-laden, Powdered formulation, Selected from natural, contains a specially formulated blend of microorganisms, micro and macronutrients, fungi, and surface tension, suppressants or penetrants, developed for use in bio augmentation. 
Application & Uses 
Textile wastewater

 

Dyeing wastewater

 
Description
contact us
Download
Reviews (0)
Benefit 
Reduces toxicity of surfactant and De-foam effect

 

Improve oxygen transmission and aeration efficiency after surfactant reduction.

 

Increased BOD and TSS removal efficiency, enhances BOD/ COD removal in Textile & dyeing wastewater,

 

Reduces surfactant & dyeing chemical,

 

Help for decoloration, reduce decolorize agent consumption cost.

 

Reduce chemical consumption and saving cost,

 

Achieve improved final effluent permit results,

 

Quick recovery from shock load and toxicity.

 
Dosage
Initially dosage 10~ 30 gram per cubic wastewater to start-up biomass culture, 
Routine dosage 1~5 gram to maintain performance. 
บริษัท สยามพอลลูเทค จำกัด
SIAM POLLUTEK CO.,LTD.
Address : 40/25 Sukumvit 101/1 Bangna Bangna Bangkok 10260
Tel : 02-747-8234-37
Contact : ธรรมนูญ อมรรัชยา
Email: info@siampollutek.com
Website:  http://www.siampollutek.com , http://www.siampollutek.co.th