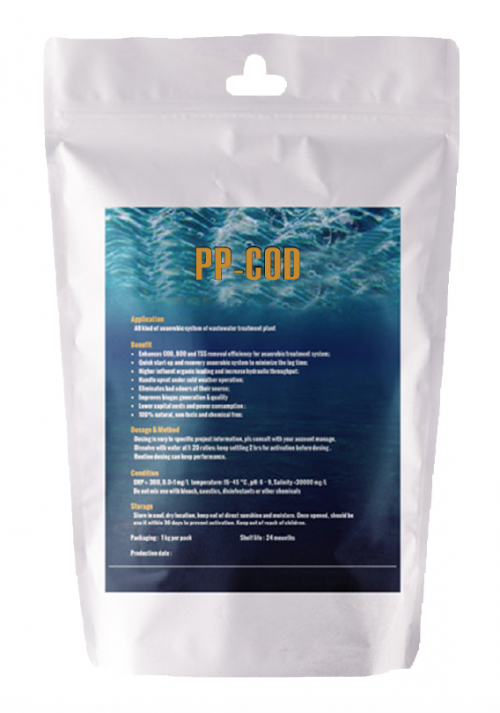 PP-COD
Special microbial enzyme for pulp & paper wastewater 
High Potency, Bacterial-laden, Powdered formulation, Selected from natural, contains a specially formulated blend of microorganisms, micro and macronutrients, fungi, and surface tension, suppressants or penetrants, developed for use in bio augmentation. 
Pulp & Paper bio augmentation is specially use for pulp & paper industrial waste water to reduce/ removal of specific contaminates like lignin, cellulose, hemicellulose, it can enhance system anti-shock ability and optimize reliability and sustainability. 
Applications 
Special for paper making and pulp mill industrial wastewater, which content of cellulose

 

Pulp Mill

 

Paper Mill

 

Kraft mill

 

Special Papers

 
Description
contact us
Download
Reviews (0)
Benefit 
Specially suitable for pulp & paper acidic wastewater, pH range 4.0~70

 

Reduces hydrogen sulfide and sludge build-up

 

Increased BOD and TSS removal efficiency, enhances BOD/ COD removal

 

Reduce difficult-to-digest organic, including cellulose, hydrocarbon, surfactant, dyes chemical
Reduction in filamentous bulking

 

Change biomass dynamics, Greatly reduces labor time

 

Cost Effective / Easy to use, no special equipment needed

 

Eliminates malodors at their source

 

Degrades a wide variety of complex organics

 

Reduction in polymer and dewatering costs, Reduces solid handling costs

 
Dosage: 
Initially dosage 10~ 30 gram per cubic wastewater to start-up biomass culture, 
Routine dosage 1~5 gram to maintain performance. 
บริษัท สยามพอลลูเทค จำกัด
SIAM POLLUTEK CO.,LTD.
Address : 40/25 Sukumvit 101/1 Bangna Bangna Bangkok 10260
Tel : 02-747-8234-37
Contact : ธรรมนูญ อมรรัชยา
Email: info@siampollutek.com
Website:  http://www.siampollutek.com , http://www.siampollutek.co.th

 PP-COD