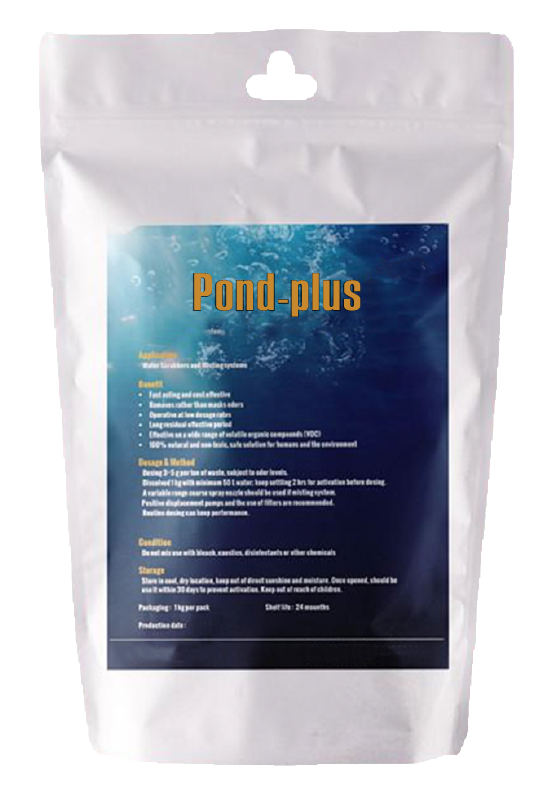 POND-PLUS
POND-PLUS is a customized natural microbial/enzyme product with specific strains for aqua bio remediation and maintain supreme pond & Lake Biota. 
Unique biological formulation that is chosen for 100 % green technology to degrade the toxic organic components and improve water quality. 
Application & Uses 
Rivers & Lakes & Canals

 

Lagoons & Ponds & Oxbows

 

Natural & man-made water bodies

 

 Stabilization ponds

 
Description
contact us
Reviews (0)
Download
Benefit
The effective natural way to establish and maintain cleaner pond and lake water without chemicals.

 

The microbes in Aqua Clarifier help restore natural balance in situations where environmental factors have led to unstable and unhealthy water quality conditions.

 

All-natural, premium bacteria and enzyme product designed to remove green water and reduce sludge.

 

Once applied, it will immediately begin to multiply and work to remove harmful decaying sludge that has accumulated from years of fish waste, dead plants, leaves and many other organic materials, as a result an expensive process, dredging becomes unnecessary for the future.

 

Eliminates pond scum and algae and helps eliminate foul odours.

 

Digests excess organic matter in ponds, lakes.

 

Once the harmful organics and nutrients have been consumed, the by-product of bacterial metabolism is harmless carbon dioxide.

 

Helps maintain Lake/Pond natural eco balance.

 

There are no pathogenic organisms, easy to feed, economical to use

.
Dosage & Method 
Initially dosage 2 ~4 kg per acre/foot of water, subsequently use 1kg per acre/foot of water per 15 days, Dosage is highly dependent on the pollution level and the waste volume. 
Direct application can be done in lake, ponds and river treatment. POND-PLUS can be applied by mixing it with lake/pond water and then evenly pouring it into the system, by evenly spraying or by injection, as appropriate. 


บริษัท สยามพอลลูเทค จำกัด
SIAM POLLUTEK CO.,LTD.
Address : 40/25 Sukumvit 101/1 Bangna Bangna Bangkok 10260
Tel : 02-747-8234-37
Contact : ธรรมนูญ อมรรัชยา
Email: info@siampollutek.com
Website:  http://www.siampollutek.com , http://www.siampollutek.co.th

 POND-PLUS