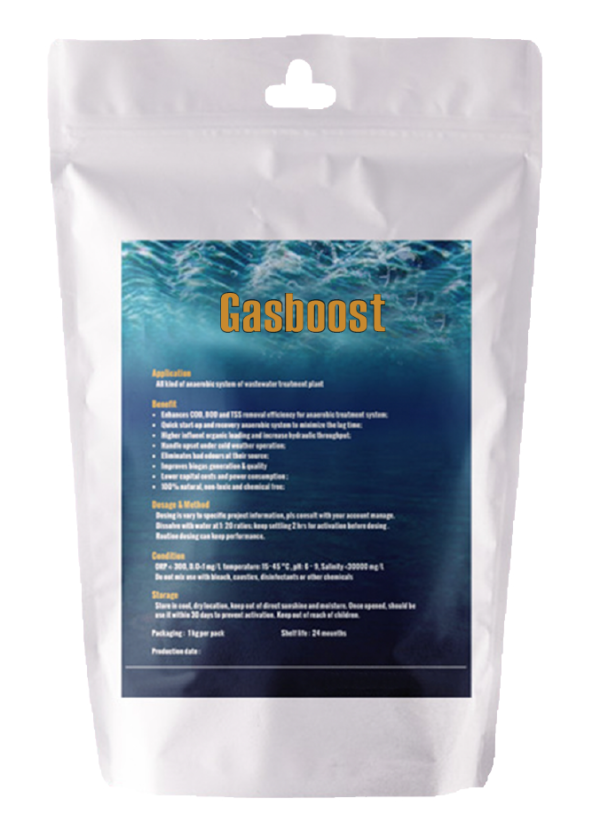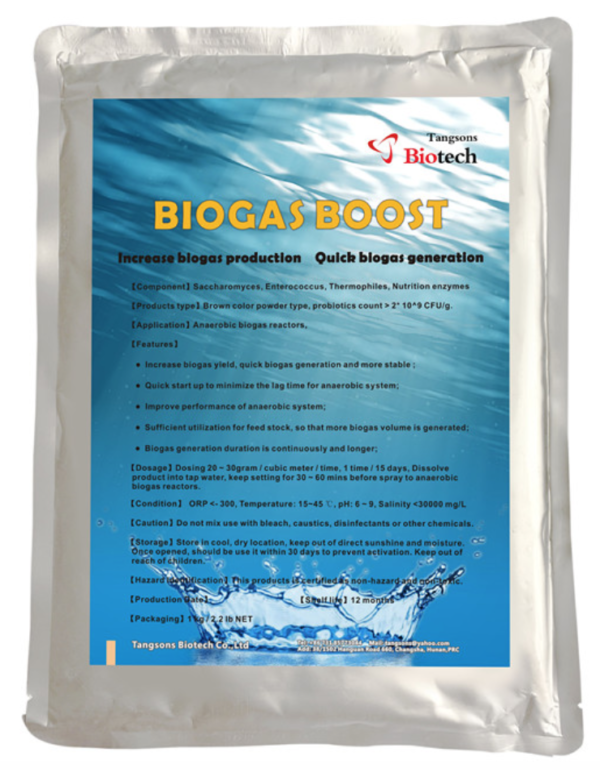 GASBOOST
Increase biogas production, quick biogas generation, improve anaerobic digestion
Gasboost is a microbial complex, bacteria, enzymes, micronutrients and trace elements, developed specifically for the improvement of operational stability and increase the biogas production of anaerobic biogas reactors. The product is highly efficient in improving the speed of all phases of anaerobic degradation.
Application
Anaerobic biogas reactors,   Biogas plant,  anaerobic digest reactor
Description
contact us
Download
Reviews (0)
Benefit
Quick start up to minimize the lag time for anaerobic system
Improve performance of anaerobic system;
Quick biogas generation and more stable
Sufficient utilization for feed stock, so that more biogas volume is generated.
Biogas generation duration is continuously and longer.
Dosage & Method
Dosing 20 ppm per time, twice time per month,
Dissolved 1 kg with 20 L water, keep settling 2 hrs for activation before dosing. 
Routine dosing can keep performance.
Condition
ORP <- 300, temperature: 15~45 °C , pH: 6 ~ 9, Salinity <30000 mg/L
Caution
Do not mix use with bleach, caustics, disinfectants or other chemicals
Packing and shelf life
2 year shelf life,  1 kg per foil bag,  10 kg per carton,  15 kg per drum.
Storage
Store in cool, dry location, keep out of direct sunshine and moisture. Once opened, should be use it within 30 days to prevent activation. Keep out of reach of children.
บริษัท สยามพอลลูเทค จำกัด
SIAM POLLUTEK CO.,LTD.
Address : 40/25 Sukumvit 101/1 Bangna Bangna Bangkok 10260
Tel : 02-747-8234-37
Contact : ธรรมนูญ อมรรัชยา
Email: info@siampollutek.com
Website:  http://www.siampollutek.com , http://www.siampollutek.co.th

 GASBOOST