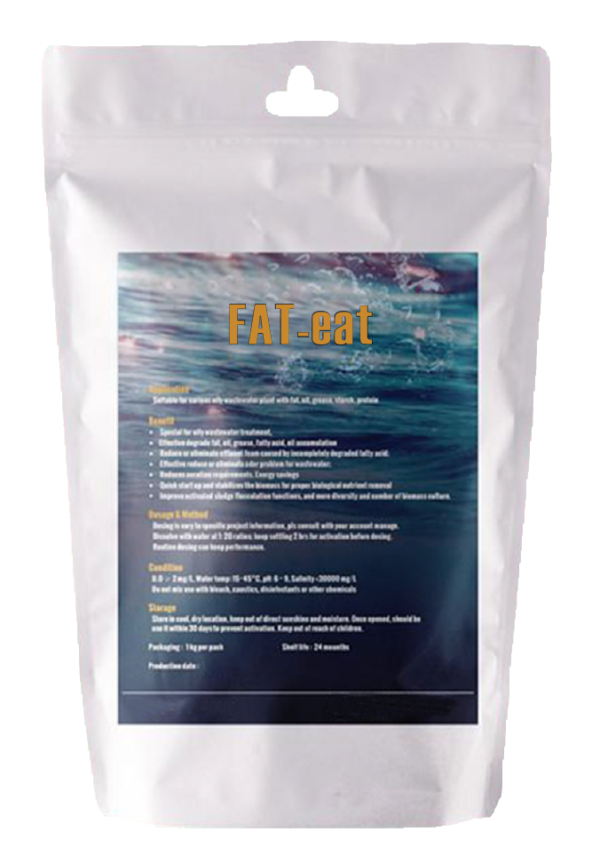 FAT-EAT
An effective biodegradation of fat, oil and grease 
FAT-EAT enzyme consist of multiple strains of tough aerobic and facultative microbes known for their ability to degrade a wide range of petroleum hydrocarbons. Each gram of FAT-EAT contains not less than 10 billion of tough bacteria whose only purpose is to biodegrade harmful environmental contaminants into harmless by-products such as carbon dioxide and water. 
Application
Oil & Grease traps
Kitchen drains & Clogged pipelines
De-greaser & Lift station
Primary clarifier
Drain lines & Sewer Lines
Dairies and food processing plants
Description
contact us
Download
Reviews (0)
Benefit: 
Excellent for the maintenance and on-going management of all types of grease traps

 

Innovative microbial technology

 

Environmentally friendly - converts grease into carbon dioxide and water, and more microbes

 

Rapid and in-depth action thanks to the synergetic action of bacteria, enzymes and nutrients

 

Allows rapid start-up of grease traps

 

Provides rapid start-up of new septic tanks and rapid recovery for intermittent use

 

Allows grease traps to work better and longer with reduced service

 

Maintains lines clean and free flowing

 

Controls odours

 

Economic & Can be handled without danger

 
Dosage & Method 
Before starting the FAT-EAT program, empty grease trap prior to treatment. 
The dosage of FAT-EAT depends upon the current grease trap condition, 
Initially dosage 20 ~ 40 gram per cubic meter for 10 days, 1 time / day, 
Subsequently use 1 time / 7 days to keep performance, 
All applications of FAT-EAT require it to be flushed down through kitchen drain outlets at night with water.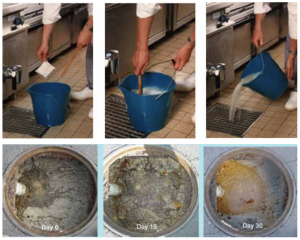 บริษัท สยามพอลลูเทค จำกัด
SIAM POLLUTEK CO.,LTD.
Address : 40/25 Sukumvit 101/1 Bangna Bangna Bangkok 10260
Tel : 02-747-8234-37
Contact : ธรรมนูญ อมรรัชยา
Email: info@siampollutek.com
Website:  http://www.siampollutek.com , http://www.siampollutek.co.th

 FAT-EAT