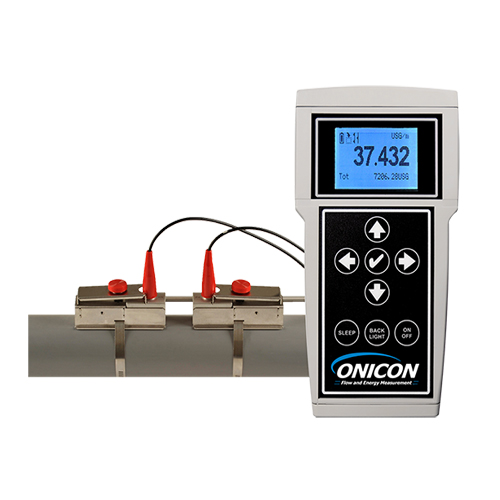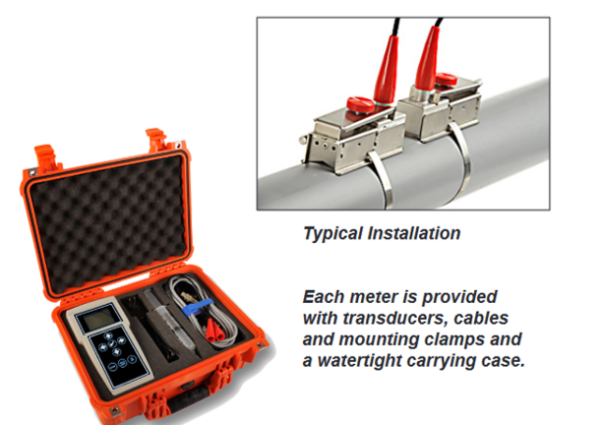 F-4400 Clamp-on Portable Ultrasonic Flow Meter
ONICON F-4400 Portable Clamp-on Ultrasonic Flow
Meter is the ideal tool for testing and validating flow.
The battery operated portable meter utilizes clamp-on
transducers to measure flow through the pipe wall. It
is designed for use with pipes ranging from 2" through
48" in diameter, and it works with most commonly
used pipe materials. Programming is easy with the
on-screen menu system. Just enter the pipe diameter,
wall thickness and pipe material.
       The F-4400 can be powered for up to 18 hours using
the internal, rechargeable NiMH battery, or it can be
operated continuously with the AC poser adapter.
APPLICATIONS
  • Flow testing for closed loop HVAC chilled, hot and
condenser water systems
  • Temporary flow monitoring for domestic/municipal
water
  • Flow testing for process water & other clean liquids
  • Baseline monitoring for project planning
Description
contact us
Reviews (0)
Description
GENERAL SPECIFICATIONS
±1% of reading or ±0.1 ft/sec (0.03 m/sec),
whichever is greater
Repeatability & Linearity: ±0.25%
OVERALL FLOW RANGE :     
0.07 to 39 ft/sec
Clamp-on ultrasonic, differential transit time method in
direct or reflect mode. For clean liquids in full pipes
with less than 2% solids or gas bubbles
PIPE SIZE RANGE :    
2" through 48" nominal diameter
Built-in NiMH battery for up to 18 hours continuous
operation
External charger with 100-240VAC 50/60Hz input
Standard: -40° F to 300° F
AMBIENT TEMPERATURE RANGE
4-20 mA (500 ohm) when powered by AC adapter
USB for data log transfer by direct PC connection
White, backlit matrix – displays a 5-digit flow rate with
floating decimal point, a 14-digit totalizer, a calibration
menu and a daily flow report
บริษัท สยามพอลลูเทค จำกัด
SIAM POLLUTEK CO.,LTD.
Address : 40/25 Sukumvit 101/1 Bangna Bangna Bangkok 10260
Tel : 02-747-8234-37
Contact : ธรรมนูญ อมรรัชยา
Email: info@siampollutek.com
Website:  http://www.siampollutek.com , http://www.siampollutek.co.th