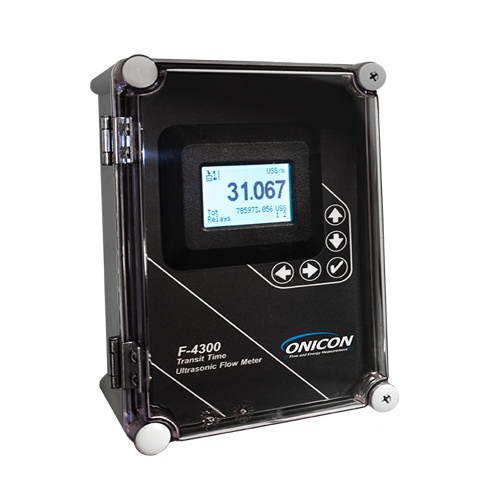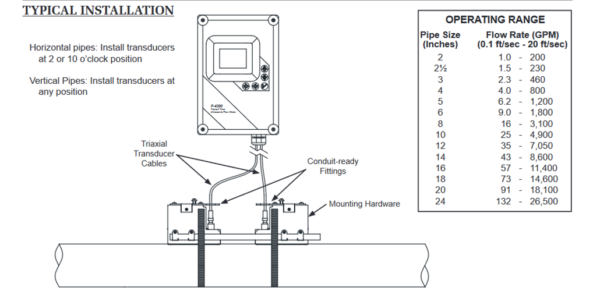 F-4300 Clamp-on Ultrasonic Flow Meter
ONICON F-4300 Clamp-on Ultrasonic Flow Meters
offer an ideal solution for liquid flow measurement
in existing systems when it is impractical to install
traditional inline or insertion style flow meters. The
innovative design incorporates matched precision
clamp-on transducers and signal processing circuitry
to accurately measure the flow of most liquids over
a wide velocity range. Each F-4300 is provided with
transducers and easy-to-use mounting hardware,
factory supplied transducer cabling, and a wall mount
enclosure with an LCD and user interface keypad.
     Output signals include a single analog output and two
pulse outputs. The F-4300 is also provided with an
isolated RS485 output capable of communicating over
BACnet
®
MS/TP or MODBUS
®
RTU networks. Optional
Applications

Chilled water, hot water, condenser water & water/ glycol solutions for HVAC

Steam condensate

Domestic/municipal water

Process water & other clean liquids

  
Description
GENERAL SPECIFICATIONS
± 1.0% of reading from 1 to 20 ft/sec
± 0.01 ft/s for velocities below 1 ft/sec
OVERALL FLOW RANGE :  
0.1 to 20 ft/sec
Clamp-on ultrasonic, differential transit time
method in direct or reflect mode
PIPE SIZE RANGE :   
2" through 24" nominal diameter
Standard: 18-30 VDC/VAC, 10 VA Maximum
Optional: 100-240 VAC 50-60 Hz, 10 VA Maximum
Standard: -40° F to 250° F
AMBIENT TEMPERATURE RANGE
บริษัท สยามพอลลูเทค จำกัด
SIAM POLLUTEK CO.,LTD.
Address : 40/25 Sukumvit 101/1 Bangna Bangna Bangkok 10260
Tel : 02-747-8234-37
Contact : ธรรมนูญ อมรรัชยา
Email: info@siampollutek.com
Website:  http://www.siampollutek.com , http://www.siampollutek.co.th