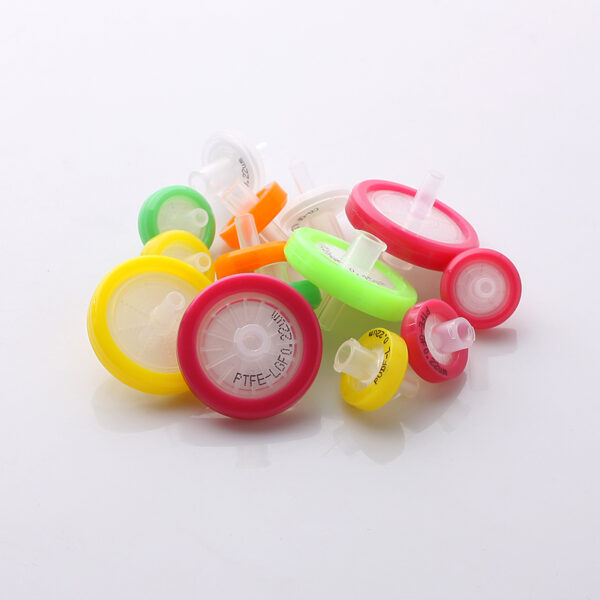 Disposable Syringe Filter
syringe-operated filters for the clarification of aqueous solutions (column eluates, tissue culture additives, HPLC samples, etc.). Containing high quality membrane materials to make experiment performance more perfect. The classic range is available in all of the major membranes including Nylon, PTFE, PVDF, CA and PES, which are supplied in 13mm, 25mm, 30mm formats in polypropylene housings.
Description
contact us
Reviews (0)
Features
• Color coding
Easier to tell the filter membrane
• Better membrane media
Improved membrane flow rates
• Application Compatibility
Broad range of filtration media meets diverse application needs and best for chromatography application
• Sterile
Filters can be purchased pre-sterilized by Gamma radiation and individually packaged
Validated HPLC Performance
• HPLC certification which guarantees the filters will not produce extraneous peaks in the UV range.
• 100% integrity tested with higher burst strength ratings assuring they will perform consistently.
• Available in 13 and 25mm sizes and available in sterile too.
• 0.45µm for most clarification applications and 0.22µm when fine particulate removal is required. Other pore size are available in 0.8 µm to 5µm.
Application
• HPLC sample preparation Routine QC analysis
• Content uniformity
• Removal of protein precipitate Dissolution testing
• Food analysis
• Bioscience analysis Environmental samples
Product Selection
Housing: Polypropylene (PP)
Pore size: 0.22 µm, 0.45 µm
Diameter size: 13 mm, 25 mm, 30 mm
Membrane material: PES, CA, PVDF(Hydrophobic/Hydrophilic), Nylon66, PTFE(Hydrophobic/Hydrophilic), MCE, PP, GF (Glass fiber), RC (Regenerated Cellulose)
บริษัท สยามพอลลูเทค จำกัด
SIAM POLLUTEK CO.,LTD.
Address : 40/25 Sukumvit 101/1 Bangna Bangna Bangkok 10260
Tel : 02-747-8234-37
Contact : ธรรมนูญ อมรรัชยา
Email: info@siampollutek.com
Website:  http://www.siampollutek.com , http://www.siampollutek.co.th