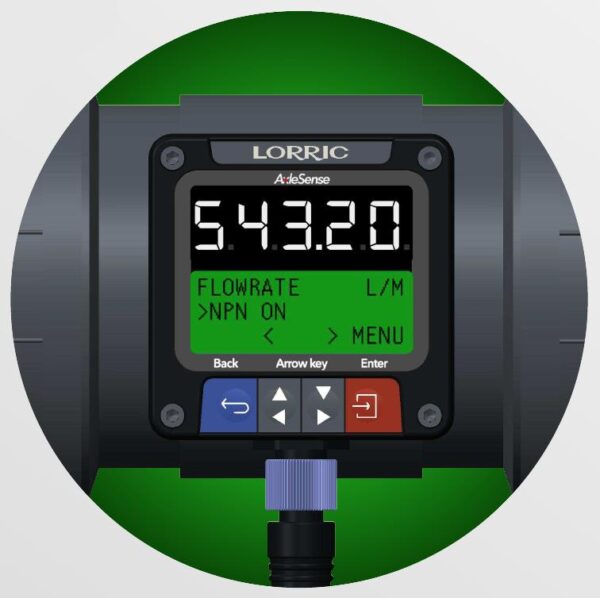 PADDLEWHEEL
A wider range of flow detection, and an instant colored screen warning of any problems with the paddle.
Easily monitor the flowmeters status from a distance. The screen lights are large and easily seen to monitor the paddles status clearly.
Large 3-color LED is clearly visible from a distance. No matter where you are in the factory, the screen lights are large and easily seen. Monitor the flow detection overview at anytime.
Description
contact us
Download
Reviews (0)
AxleSense, the latest release flowmeter with a brand new innovative design which includes variable area and ultrasonic.
After much research, we discovered that every other paddlewheel on the market use the same design. They all use the blades of the paddle to measure the flow rate. We thought that there must be a better way to improve measurement? Thats when we came up with "Axlesense". Our innovative design uses the axle of the rotating paddle to measure the flow rate. This means it can measure much lower flow velocities accurately as the axle can detect the slightest of movement.
It also has a large screen with a traffic light system. When the screen is green it means everything is working accordingly. However, if the screen is red you may have a problem with the device. This simple but effective feature means that technical problems can be seen and fixed quickly.
---
Specification
Installation method: In-line (Pipe segment)
Measuring principle: Paddle wheel
Flow rate range(m/s): ±(0.3~10m/s), can extend to ±(0.1~10m/s)
Temperature range: PVC pipe=temperature resistance 50°C / 316L pipe=temperature resistance 100°C
Applicable fluid: Clear, oil or chemicals with less impurities(<1%) and maximum dynamic viscosity at 300cSt
บริษัท สยามพอลลูเทค จำกัด
SIAM POLLUTEK CO.,LTD.
Address : 40/25 Sukumvit 101/1 Bangna Bangna Bangkok 10260
Tel : 02-747-8234-37
Contact : ธรรมนูญ อมรรัชยา
Email: info@siampollutek.com
Website:  http://www.siampollutek.com , http://www.siampollutek.co.th

 Paddlewheel