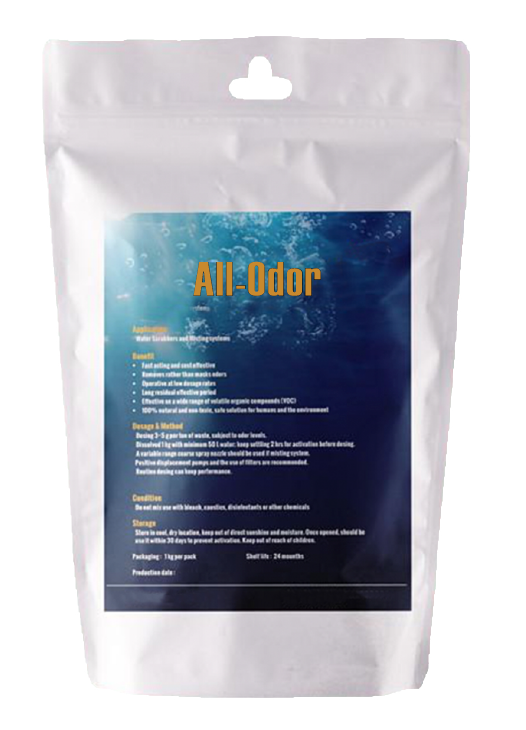 ALL-ODOR
 Protects your community standing by controlling sulfur-based odors 
Odor control microbial enzyme is contains patented biological odor control technology and can degrade hydrogen sulfide mercaptans, and volatile fatty acids. 
A biological odor control program offers superior odor prevention because it works in the same environments where odors are generated. Furthermore, it has no unintended negative impact on the biological treatment system. 
Applications
Pulp & Paper Mills & Textile Mills

 

Waste water Treatment Plant

 

Landfill & Waste station

 

Livestock Farm & Slaughter house

 

Food Processing Facilities

 

Oil Refineries/Hydrocarbon Processing Indus-tries (HPI)

 

Foundries/Steel Mills/Automotive Plants

 
Description
contact us
Download
Reviews (0)
Benefits
95 % ammonia nitrogen reduction

 

90% sulfur-hydrogen reduction;

 

Quickly suppress spoilage organisms

 

growth;

 

Harmless to human and animals;

 

Non-secondary pollution;

 
Dosage & Method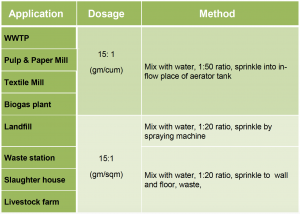 บริษัท สยามพอลลูเทค จำกัด
SIAM POLLUTEK CO.,LTD.
Address : 40/25 Sukumvit 101/1 Bangna Bangna Bangkok 10260
Tel : 02-747-8234-37
Contact : ธรรมนูญ อมรรัชยา
Email: info@siampollutek.com
Website:  http://www.siampollutek.com , http://www.siampollutek.co.th

 ALL-ODOR